First of all, Happy Birthday to my gorgeous wife!! Love you baby!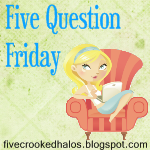 1. If you had the opportunity to bungee jump, would you?
I would love to try bungee jumping some day!
2. Would you rather go to the movie theater or to the drive-in?
I would much rather go to a drive-in because they are cheaper and you don't have to bump elbows with someone you don't know. Plus you can bring your own snacks!
3. Do you have your groceries delivered?
We have never tried grocery delivery. There's nowhere local that offers this service and shipping would be outrageous to do it with some national place.
4. Eyebrows: Do you wax, thread, pluck, or stay au naturel?
Au naturel except for I have a couple hairs that like to grow twice as long as the rest. I pluck those about once a month.
5. Would the people you went to high school with be surprised by your life today?
I don't think anyone would be too surprised with my life today. Besides for being a tiny bit more mature, I'm not a whole lot different than I was in high school. Of course my wife will probably comment below and tell me all the ways I'm different.
Blog Gadgets