In 2012, I was able to ride 450 miles on my bicycle. Much of this was on organized rides. These are my favorite way to ride because the routes are already planned out, there are generally sufficient snack and water stops, and there is usually SAG support in case I break something or have problems along the route.
In 2013, I've unofficially set a goal of getting to 600 miles. This will be rather difficult while balancing family time, especially with a newborn! I have registered for a ride in August that will give me the opportunity to ride up to almost 200 miles over 3 days. This will give me an opportunity to build up my endurance and see where I'm at by August. The ride, you may be asking, is the
Amishland and Lakes
ride that starts in Howe, Indiana. This is very near to Shipshewana, Indiana, so my family should have plenty to do while I'm riding.
Today, I was able to get almost a 21 mile ride in, although it was more windy than I like it. I prefer to ride when the wind isn't blowing at all...in a perfect world. I'm really not too pleased with my Endomondo app because it has been stopping half way through my ride and it doesn't notify me it stopped. So, when I get home, I have to manually map my ride to figure out my mileage.
I'm also having a really tough time keeping my phone charged during a ride. Last fall, I rode a almost 7 hour ride and it lasted, with the use of an external battery. Now, I'm not getting much more than 3 hours with GPS turned on, even with the external battery. I am pretty sure I'm in need of a new phone. This one is over two years old. I hate trying to deal with Verizon though, because my account is a government account. It's extremely difficult to get in contact with someone at customer service that can actually help me. I think I'm going to have to break down and just wade through the phone menus and transfers to get it replaced.
I've also considered getting a Garmin or similar GPS device to track my rides, but I'm not sure if the batteries are much better than a phone on those. Garmin makes some pretty awesome looking and full-featured GPS devices for cycling, but I don't think I could even begin to afford one. Maybe some day!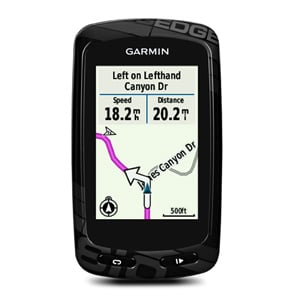 Blog Gadgets