Well, vacation was a lot of fun. Coming back to work was a bear. One of our big technology items in the data center got broke while I was gone and I had to deal with that as soon as I got back to work on Monday. There were other minor things I had to work on as well as my normal beginning of the month tasks. To make it even worse, it was the first week in over a month that I've been in the office for 5 days straight. May was full of conferences and a holiday. The weather has been crazy with rain showers almost every day, so I haven't gotten out on my bike.
I was able to get some work done in my gardens. I'm so excited to see the gardens doing well. Most years, I don't have a lot of luck, but the garden is looking amazing so far this year, including some volunteer squash plants and a sunflower that is standing over 4 feet tall. I did not plant either of those two plants. I went to Menards Thursday to get some top soil to cover the potato plants a bit more. I found some eggplant plants that were marked way down. I bought them because they already had some flowers on them. I'm hoping maybe they'll do ok even though it's kind of late to be putting stuff in the garden.
Anyway, I wanted to write about two bike rides I have coming up. Next Saturday, June 21, I have registered for the
Limaland Tour
in Lima, Ohio. They are offering routes of 17, 35, and 65 miles. I registered for the 65 mile ride figuring it should take me around 4 hours to complete. This is a ride I haven't done before, but since the starting point is pretty close to me, it makes it an easy ride to attempt.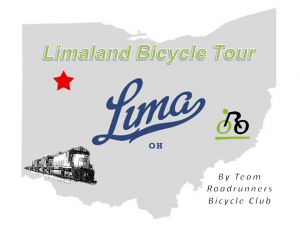 June 28, I'm registered for the
Buckeye Bridge Ride
at the Preble County Fairgrounds. They offer 18, 49, 62, 89, and 100 mile routes. If the weather is perfect, I will attempt 100. This ride is about 2 hours away, so I may stay overnight near there so I don't have to leave too early! I have done this ride twice before and loved it. Several big hills make this ride a challenge for me since I live in a very flat part of Ohio, but I love the hills and the challenge of climbing them on my bike!
Blog Gadgets